Flanders Fields Gravel Tour, you don't want to miss this!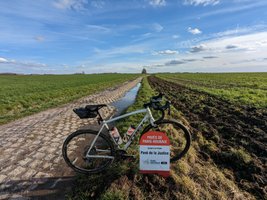 Biking Events (since 1999 organiser of the LCMT "mountain bike" in Ardennes) launches a brand new cycling event: the 1st Flanders Fields Graveltour.
Also a three-day tour but now from the home base where Biking Box (Cycling Experience Centre) is located: YPRES! With this, we are focussing on the many cycling options Flanders Fields & le Nord has to offer.
In close cooperation with the Royal Ypres Cycling Club and the City of Ypres, we officially present this new top weekend in terms of cycling experience in Ypres and surroundings.
The Flanders Fields Gravel Tour will incorporate the tried and tested success ingredients of the LCMT. An excellent all-in package, coupled with many accommodation options.
You can ride the Flanders Fields Gravel Tour by gravel bike, mountain bike or cyclocross bike.
The three-day Gravel Tour is also included in the cycling calendar of Wielerbond Vlaanderen (cyclists and riders with a permit do not have to pay any additional insurance).
How to arrange your lodgings?

To book your lodgings = click on SUBSCRIBE-page. First things first: your type of bicycle-event = using www.lcmt.bike link with specific payment recommendations. Afterwards you choose between two options: youth hostel in Bevercé or DAFT-Hotel (rue de Waimes, Malmedy).









Excellent food & drinking supply services



Before the start (sport drinks and sport bars), on the road (3 times for the XL-distance) and at the finish there are excellent food and drinking supply services.
GPS-service or you ride with one of our guides in small groups

As this edition of LCMT is a cycling or better said, mountainbike holiday, we give you all GPS-tracks with daily choice between 3 distances. Or you join one of our guided groups. Max. 15 mountainbikers follow our MTB-guide who takes care of keeping the group together.
Security and medical support when needed!

*INSURANCE: civil liability and personal injury
*FIRST AID: Presence of a mobile team of Red Crossmen at the supply services and at the finish
*MEDICAL ASSISTANCE: There is always a (bikinhg) doctor available during your mountainbike holiday. After the ride he holds consultations and, if necessary, you can obtain medications.
Professional mechanics
On the way and at the supply services + after the finish there are professional mechanics available. They will repair your bike. Only the new spare parts have to be paid by you.
Bike-wash

Bike-cleaning is of course available daily at the finish.


Compex-electrostimulation & Massage

Daily FREE service by COMPEX electrostimulation (nearby finish). Massages also available by our very kind kiné- & massageteam.