Why you should ride the "LCMT"-event!
FAQ : How daily STARTS will be organized at the ADEPS sportscenter "La Fraineuse"?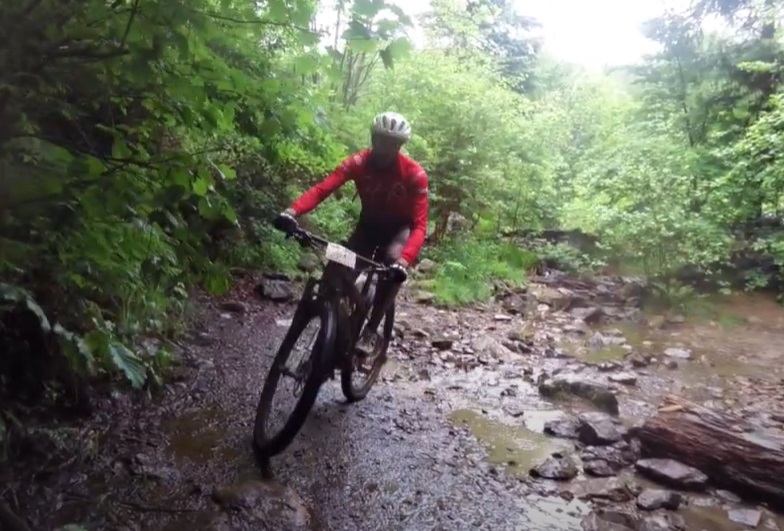 The LCMT, the multi-day mountainbike tour organized since 1999, traditionally takes place during the Ascension weekend in May. Three stages in loop form (daily 2 to 3 optional distances) depart every day from the heart of the Ardennes, known for the Liège-Bastogne-Liège route as well as the Formula 1 in Francorchamps. The German-speaking East Cantons also offer a lot of cycling fun! You choose either the more competition-related or the recreational formula.
The LCMT for which you register offers a total package of facilities and service. Excellent supplies, roadside assistance and the presence of mechanics along the way and at the finish guarantee a carefree cycling experience. There is even a massage and if necessary you can go to the doctor. With the new booking module, your accommodation can also be added to your booking if necessary (and when stated as an option).
In short, LCMT = top experience for every passionate mountainbiker who is looking for a tailor-made challenge in spring!
GROUP START
A mass start in group gives always a special vibe. First the competitive riders (first 50 of last year's edition have the right to start in front, from the 2nd day the general standings are used to give the start positions.
CROSS-DUATHLON

As the cross-duathletes first need to start each day with a running contest, they shall start 5 minutes before the mountainbikers have their start. After their morning run, they pass again at the start for their mountainbike challenge. In the end a second running trail is still waiting. During the run contest the bicycles stay in a secured zone. Between changing disciplines time is stopped. You do NOT need to rush between shoe changing. Time starts when crossing the start-line.
How to arrange your lodgings?
To book your lodgings = click on SUBSCRIBE-page (button on top of this page). First things first: your type of bicycle-event = using
www.lcmt.bike
link with specific payment recommendations. Afterwards you choose the hotel you wish. For the first 240 riders who wish this, a direct accommodation can be booked in La Fraineuse-ADEPS-sportscenter. All other participants can check out the offer that Spa-Tourism has. A large scale of possible hotels or B&B's is available in this famous Belgian touristic area of "Spa-resort" (what's in a name).
Excellent food & drinking supply services



Before the start (sport drinks and sport bars), on the road (3 times for the XL-distance) and at the finish there are excellent food and drinking supply services.
Perfectly signposted stages



There is put a lot of work into the design of our stages. You enjoy perfectly signposted rides with signalmen and additional information boards.
Red cross allways around!

*INSURANCE: civil liability and personal injury
*FIRST AID: Presence of a mobile team of Red Crossmen at the supply services and at the finish
*MEDICAL ASSISTANCE: There are two doctors available during the LCMT. After the ride they hold consultations and, if necessary, you can obtain medications. This is free of charge.
Professional mechanics
On the way and at the supply services + after the finish there are professional mechanics available. They will repair your bike. Only the new spare parts have to be paid by you.
Competition or fun? Souvenir for everyone.
Time registration (brevet gold-silver-bronze) in the ROAD-tour and a real competition (chrono from start to finish) if you choose to bike the MOUNTAINBIKE-tour. Also official standings in COMBI-Tour, TRIATHLON and CROSS-DUATHLON. We do provide also a beautiful amount of prize-money. In 2018, we have paid out 5000 EUR! For coming edition, after all COVID-19 troubles, the total amount of prize-money will be just a bit more moderate. As all economic consequences due to the pandemy are now undermining budgets. Most important will be: let's have fun again in doing this after the bad experience of a NONE-year 2020...

Everyone will receive a unique souvenir of the LCMT & a nice goodie bag at the start. You also enjoy strong PROMO actions, such as the possibility to purchase the personalized LCMT-outfit (webshop via Bio-Racer).
Bike-wash

Bike-cleaning is of course available daily at the finish.

Security

Professional bike surveillance when the bikes are putted away, also at night.

Compex-electrostimulation & Massage
Daily FREE service by COMPEX electrostimulation (nearby finish). Massages also available by our very kind kiné- & massageteam. You will be able to get your massage-appointment even before start of the day. All riders will receive the invitation to make their personal reservation. Especially for XL-riders this will avoid long waitings for their perhaps hard needed massage after finishing.