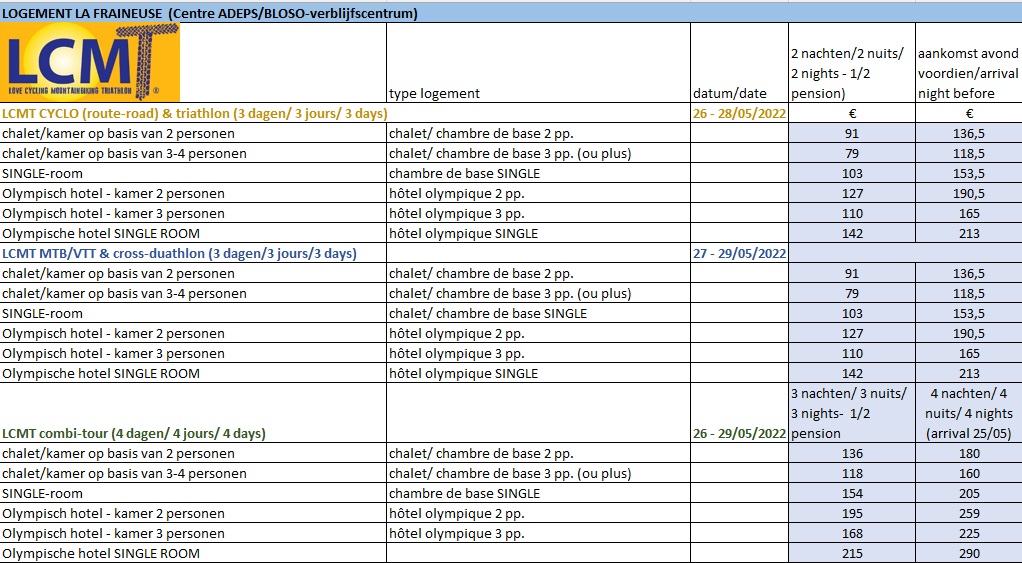 HOW TO FIND YOUR LODGINGS?
For all who had already arranged their transfer from LCMT 2020, there was priority to book accommodation in the ADEPS sports centre "La Fraineuse", also in the immediate vicinity of the start / finish zone. However, this concerns only about 200 beds. They are divided into 16 chalets (max. 4 persons), 34 rooms for 2 to 3 persons in the Olympic complex of La Fraineuse and a further 24 rooms where resp. 3, 4 to even 6 people can sleep. These last 24 rooms are of course a lot cheaper.
Interested? First we invite all who had booked for 2021 (covid)-edition if they still want to get their booking back for next year's edition. Afterwards all other participants receive an invitation to book the remaining beds (by e-mail and also viewable on this website and Facebook).


Other accommodations can be found here:
DOMAINE DE L'EAU ROUGE
CHENEUX 25
4970 STAVELOT (BELGIË)
Camping Challes,
Rte de Challes 5, 4970 Stavelot
Camping de la Cascade
Chem. des Faravennes 5, 4970 Stavelot
CAMPING 35 IN RUE DE POMMARD 237, 4970 STAVELOT
CAMPING PARC DES SOURCES (RUE DE LA SAUVÉNIÈRE 141 IN SPA)
CAMPING SPA D'OR IN SPA-FRANCORCHAMPS (STOCKAY 17 IN JALHAY)