Actual situation on 2020-ticket transfers to next edition
Back to news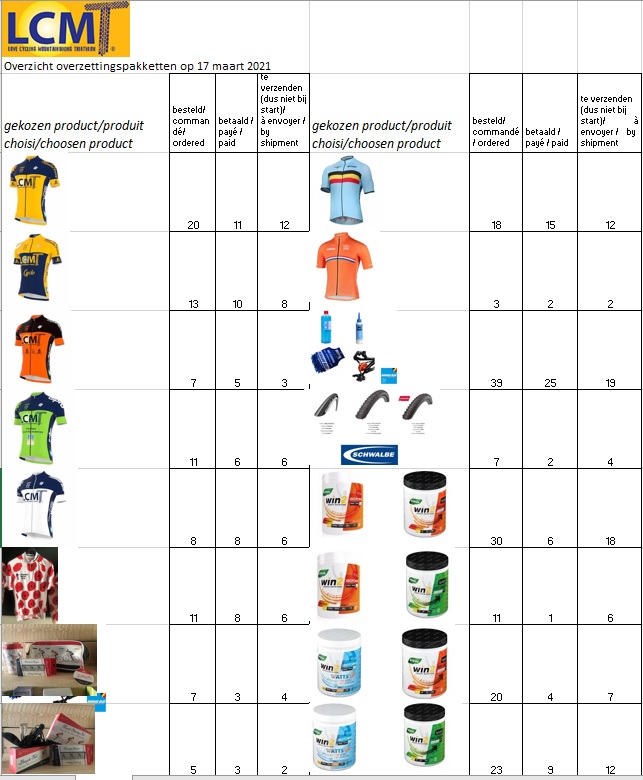 The 22nd LCMT edition-2020 could unexpectedly not take place last year due to the corona pandemic. Because it was the last edition in Houffalize (Spa 2021 was
already fixed), Biking Events was forced to propose a ticket-transfer to the registered participants for 2020. In the image you see here, there is an overview
of which products up to now was ordered. The entire handling of these packages involved more work than originally estimated. This is partly due
to the option to select the option for home delivery of the chosen package.

For the cycling shirts, we passed already 3 different moments to accomplish these shipments. Only ordered and paid sweaters are manufactured and delivered. The latest sweater deliveries are
already ready for shipment. 

As for the rest, we have waited until now to take care of all ordered + paid products. So we contact only once the suppliers (Intercycle-Schwalbe, WIN2, Morgan Blue). That is why we emailed last week to all who still had to make their product choice or to whom an order had not yet been paid.

We want to close the entire transfer procedure soon. In any case, this only applied to the 2020 corona cancellation. Since then it has always been communicated that
whatever the follow-up to this pandemic may be, there is no intention for LCMT-Spa from the organizational side to announce another ticket transfer with obligational extra or product buying. After all, all preparatory work for the LCMT in Spa was not lost entirely if COVID 19 would still lead to a new cancellation of the event. The organizer was aware from the start of LCMT 2021 of the 'corona risk factor' on a possible new corona delay. 

We will leave though the ticket transfer procedure with product-selling open, as a free statement of support, should the government invoke corona again as a ban for manifestations à la LCMT in
May. If this is the case again, it will be a very hard nut to crack for the entire events sector such as the LCMT.
Being unable to organize for two years ... one should not actually think about it. 

We hope to be able to provide you with new information in the first few days. Both you, the participating athlete, and we, fully engaged in the final
preparations for the organization of the event, are entitled to get a decision as soon as possible. March 31 is therefore our final date to make this decision.